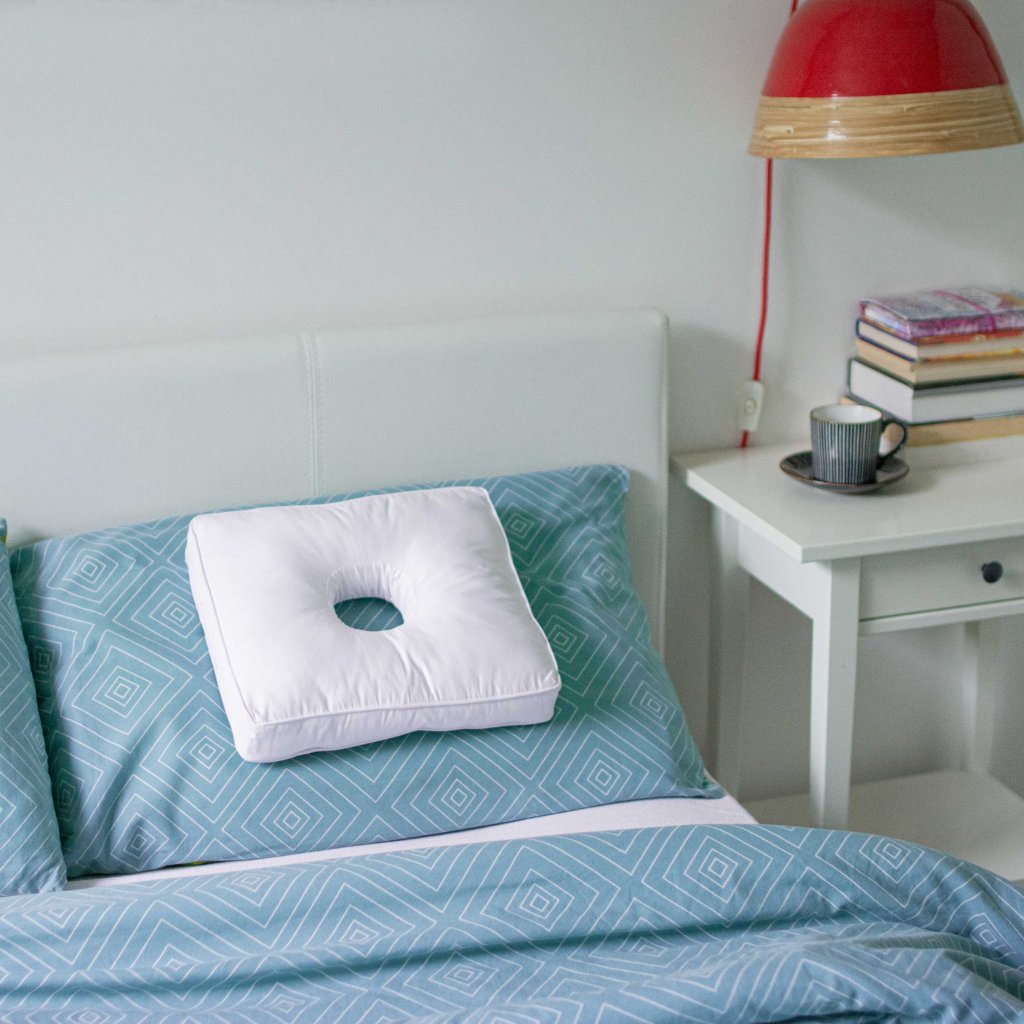 Welcome to the better side of sleeping!
Shape, size and materials adapted to create the better side of sleeping.
Mono Pillow guarantees better sleep that not only improves comfort for earphones and piercings use but takes care of your head and ears. Getting rid of ear pressure also maximises your daily functionality and disposition to work and socialise.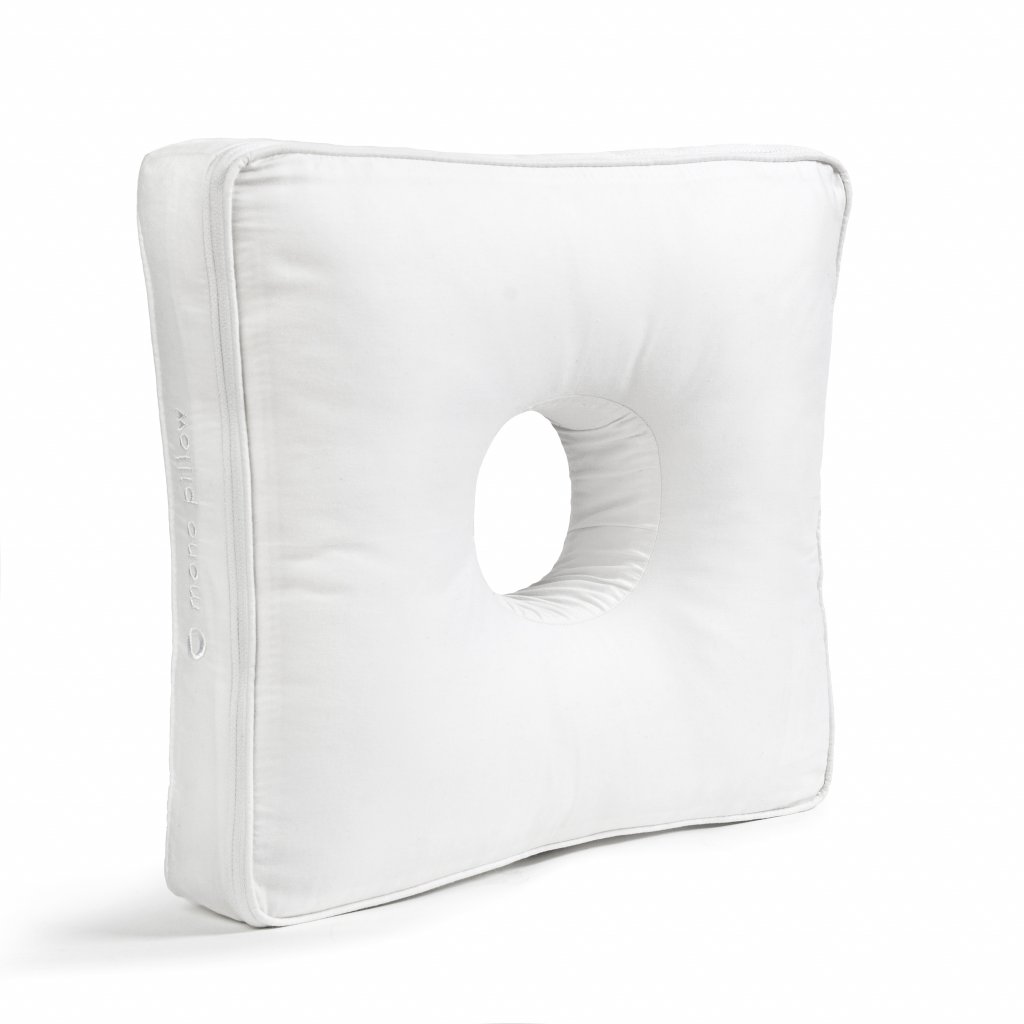 The size of the Mono Pillow is the first of its kind, with a small design that allows you to place it on top of your regular pillow with ease. Great functionality makes it a sleep accessory that doesn't interfere with your sleeping habits, only adding to the comfort.
The exact dimensions of the pillow are 31 x 27 x 8 cm with a hole diameter of 9 cm.
Take your Mono Pillow everywhere with you to adjust places to you instead of adjusting yourself. Intended for the home but perfect for travelling or staying at hotels.
Why opt for an ear adapted pillow?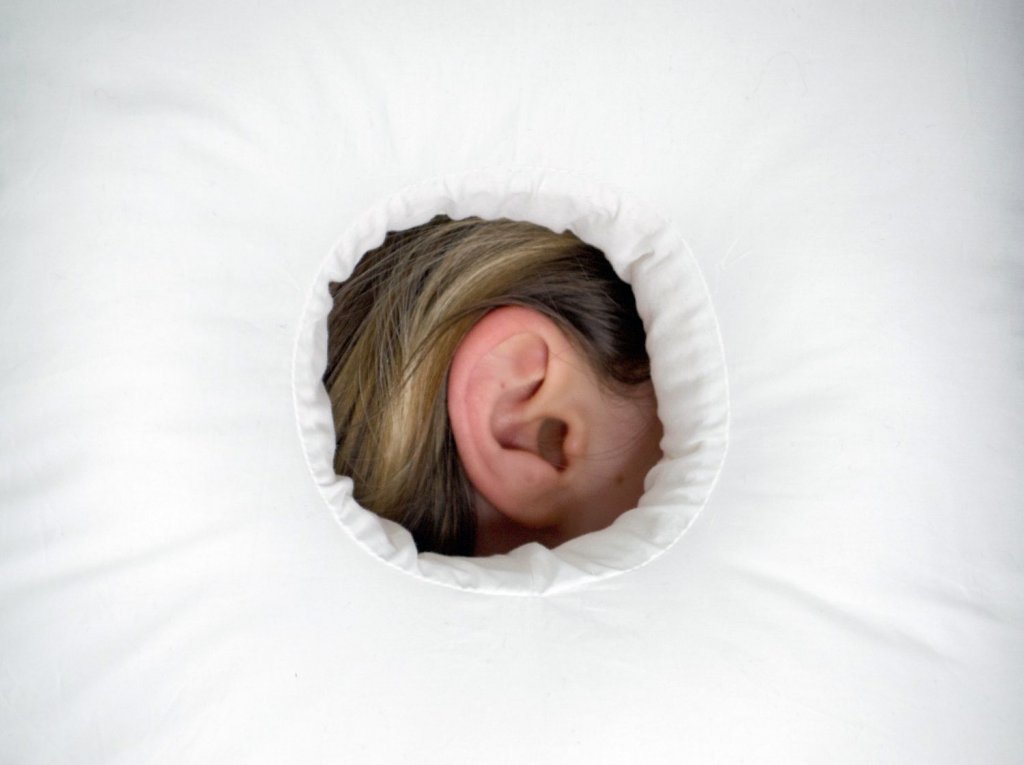 Starting from the obvious fact that when standing, our ears are not naturally pressed against anything, then why would we press them against our pillow?
How many times have you woken up from a deep sleep with "pillow marks" on your face and red, swollen ears? Headache and earache are also common issues everyone deals with when suffering ears are subjected to continuous unbreathable ear space during the night.
An ear adapted pillow is meant to do just that: adapt to the normality of natural human characteristics.
Nothing has to be wrong with your ears to opt for an ear adapted pillow. It's a choice of uplifting comfort for everyone, regardless of sleeping patterns and ear issues.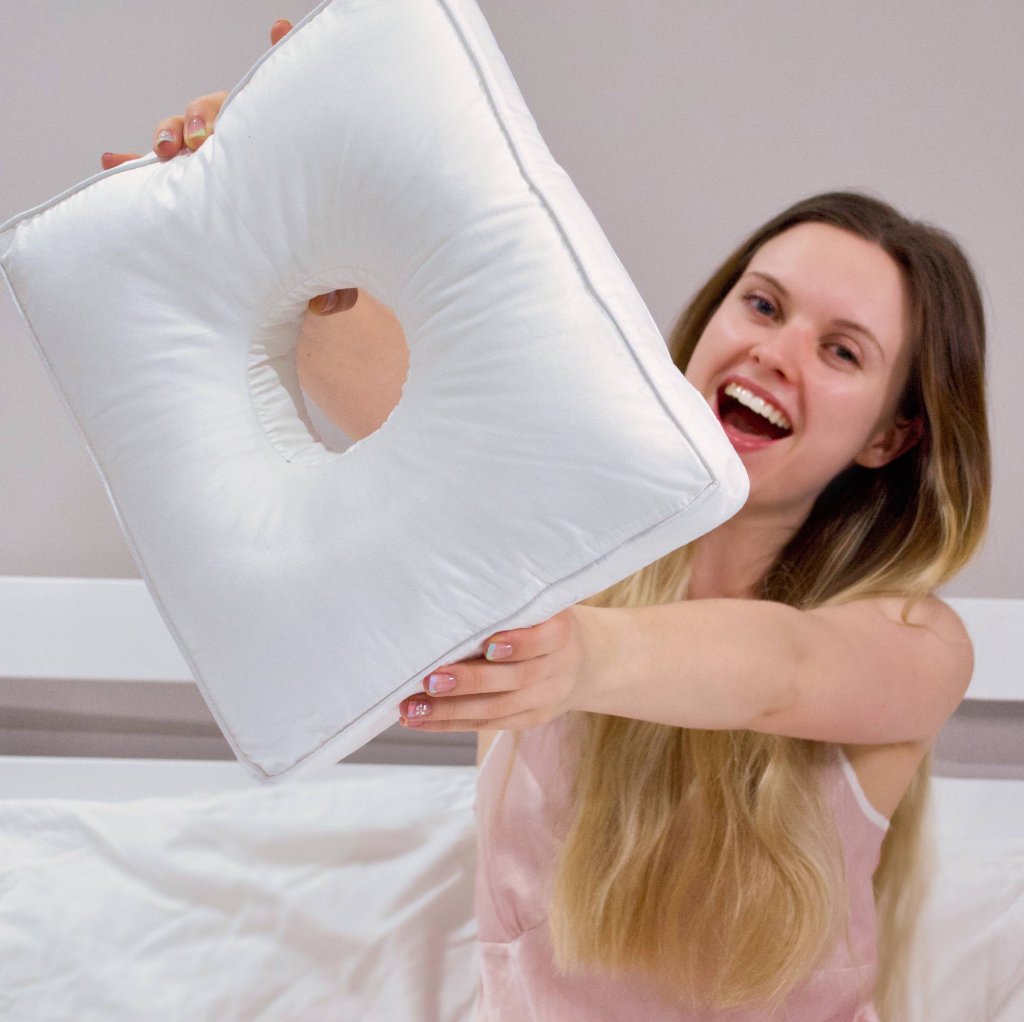 Tested by the worlds' most sensitive sleepers
The most sensitive, acute senses have been involved in the creation of Mono Pillow, with several months of testing, with no detail let undetected.
Touched up to complete satisfaction for all sleeping patterns. You can find comfort in Mono Pillow on either side and position you'd be sleeping in.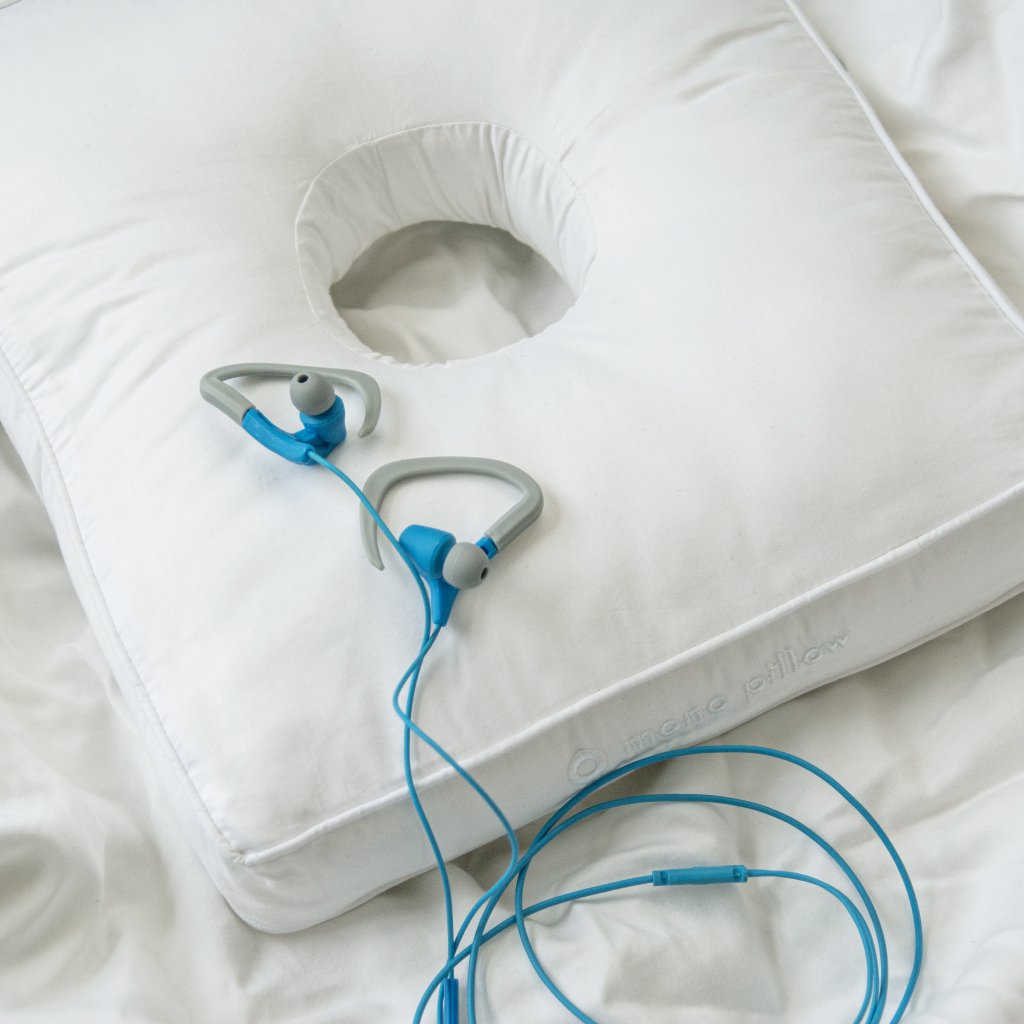 An ear adapted pillow is meant to serve further into allowing you to use earphones to help you fall asleep, to comfortably let your piercings in during the night, sleep with earplugs, relieve ear pain and facilitate the best sleep for side sleepers.
The ability to use earphones to sleep was a crucial starting point of Mono Pillow. Listening to calm soundtracks to help you fall asleep and then having to change the earphone from one side to another as you turn… it clearly defeats the initial purpose of falling asleep easily.
The ear adapted hole makes it easy to keep comfortable neck and head support while having a free ear with an astonishing world escaping soundtrack on.
Sleeping with multiple piercings pressed against the pillow and changing their direction as you move, stabbing you in the ear lobe is no fun. And if you finally compromise for better sleep and remove them, it becomes even less fun when you forget to put them back on in the morning through the rush to get out. We've tried to solve these issues and found the right answer in comfort.
Mono Pillow's quality covers all aspects from outer shell to the inner pillow to the hole dimension. Everything has been calculated and measured to result in all-rounded comfort.
With a satisfying touch, quilted material of pure cotton and hypoallergenic synthetic fibre filling, Mono Pillow provides medium to firm support. While being an optimal fit for your head, the hole will offer breathable space to your ear.
100% Virgin Polyester Filling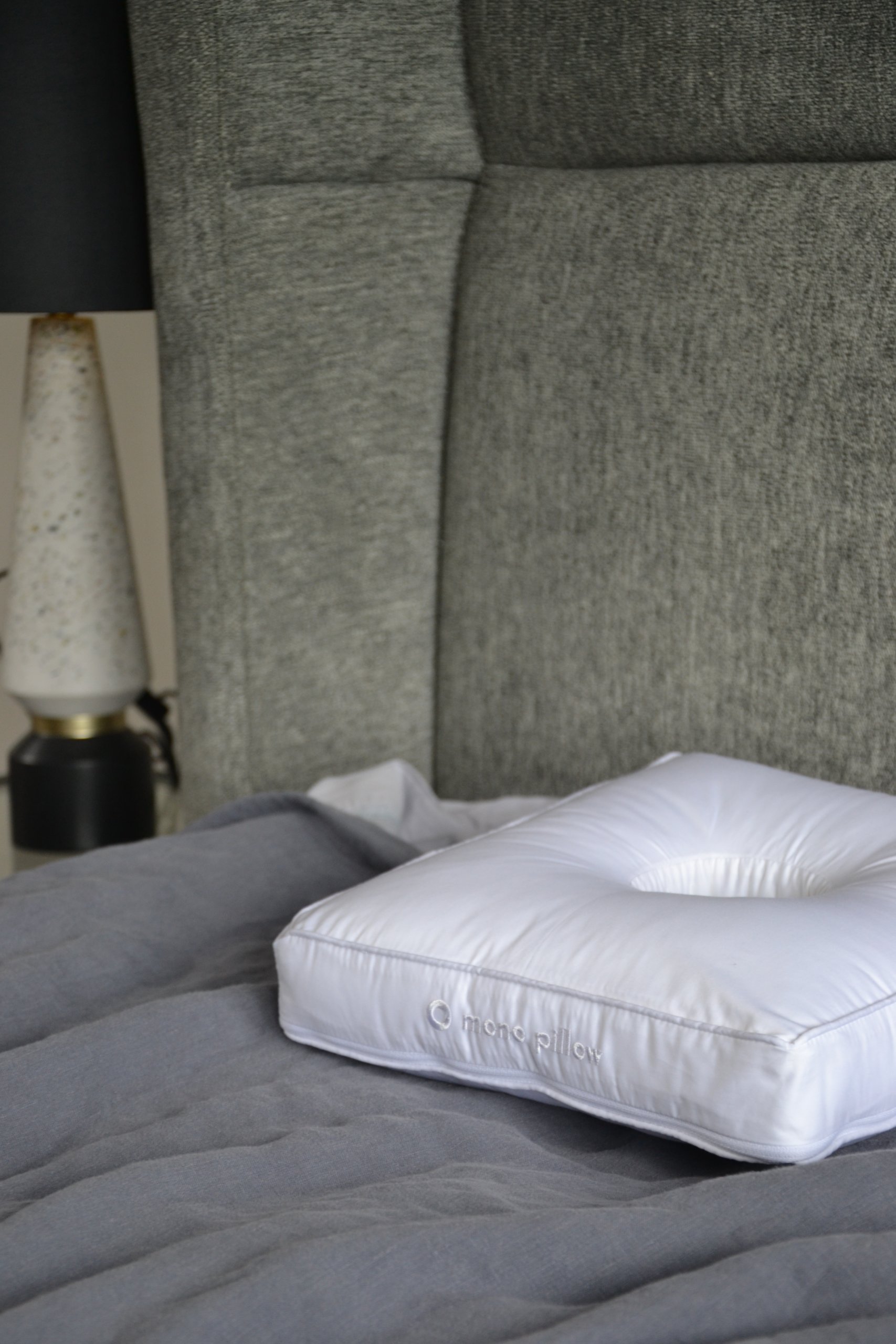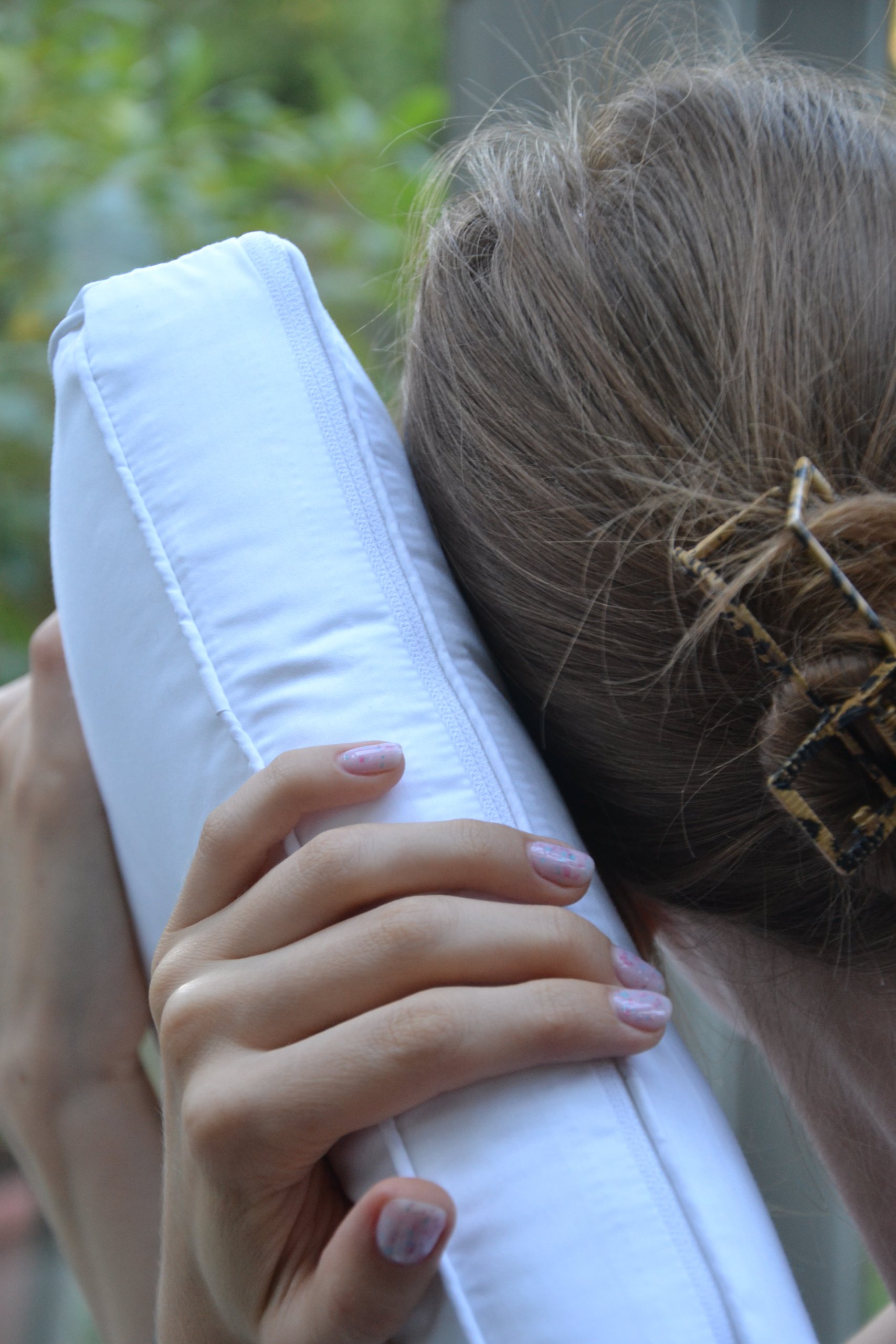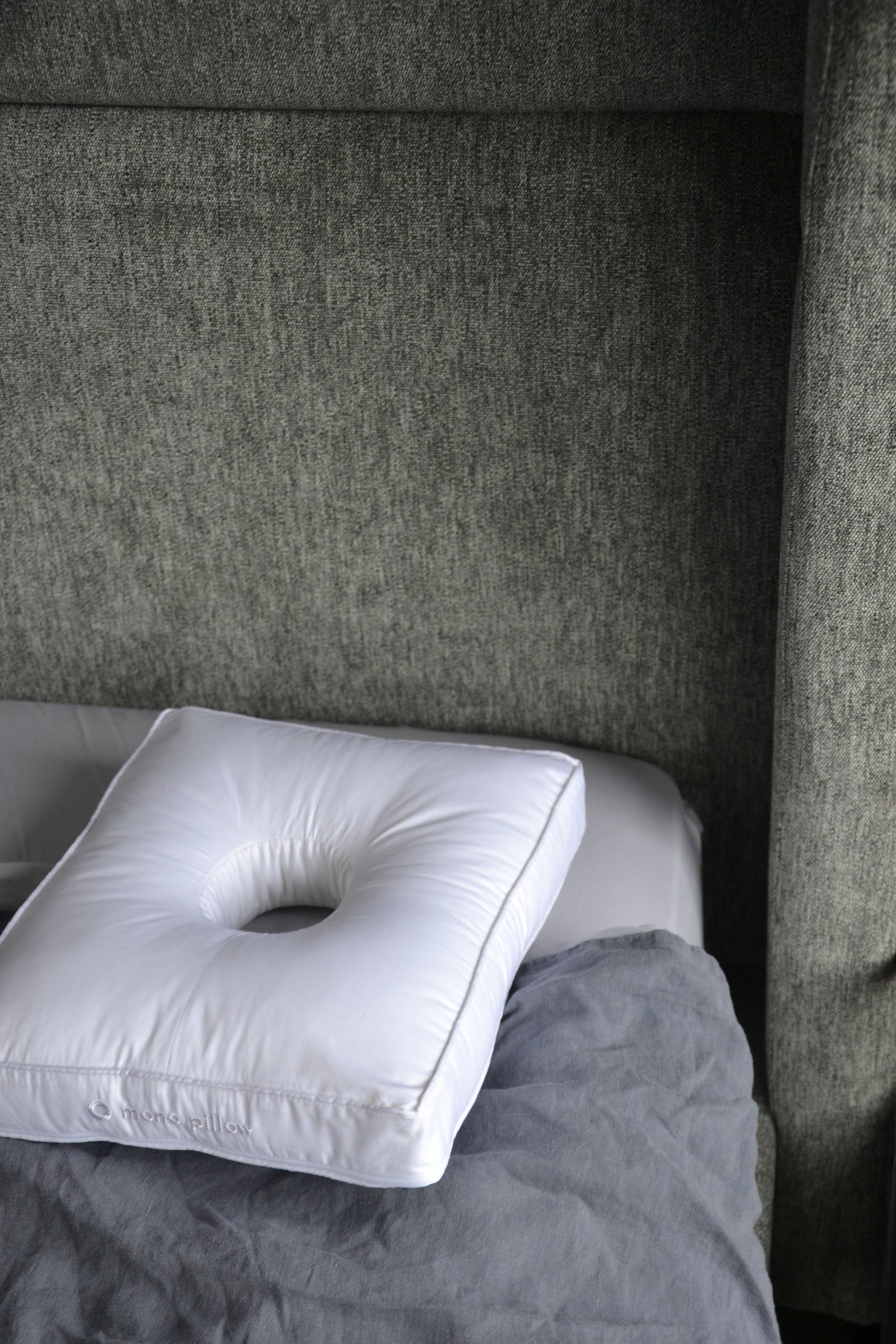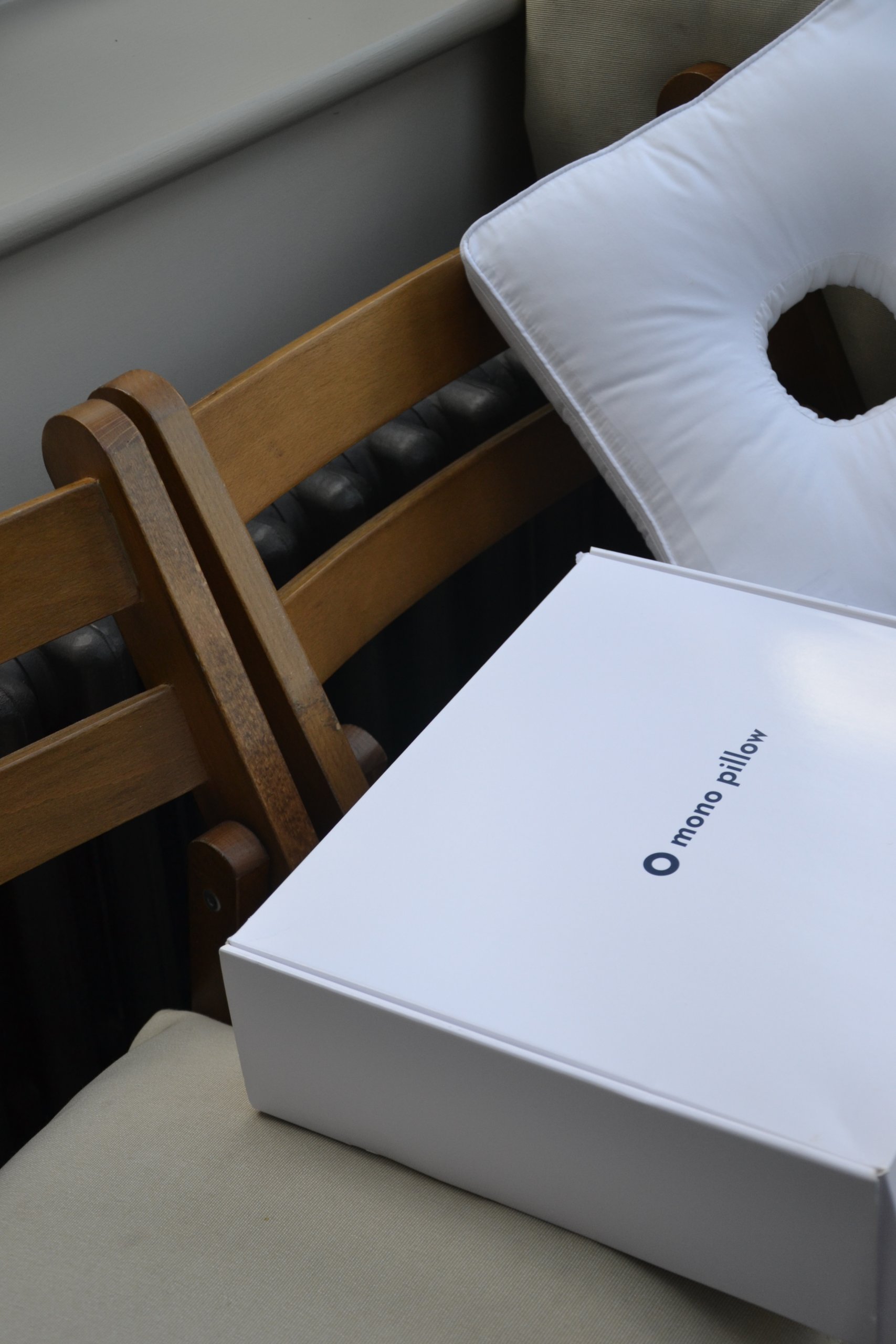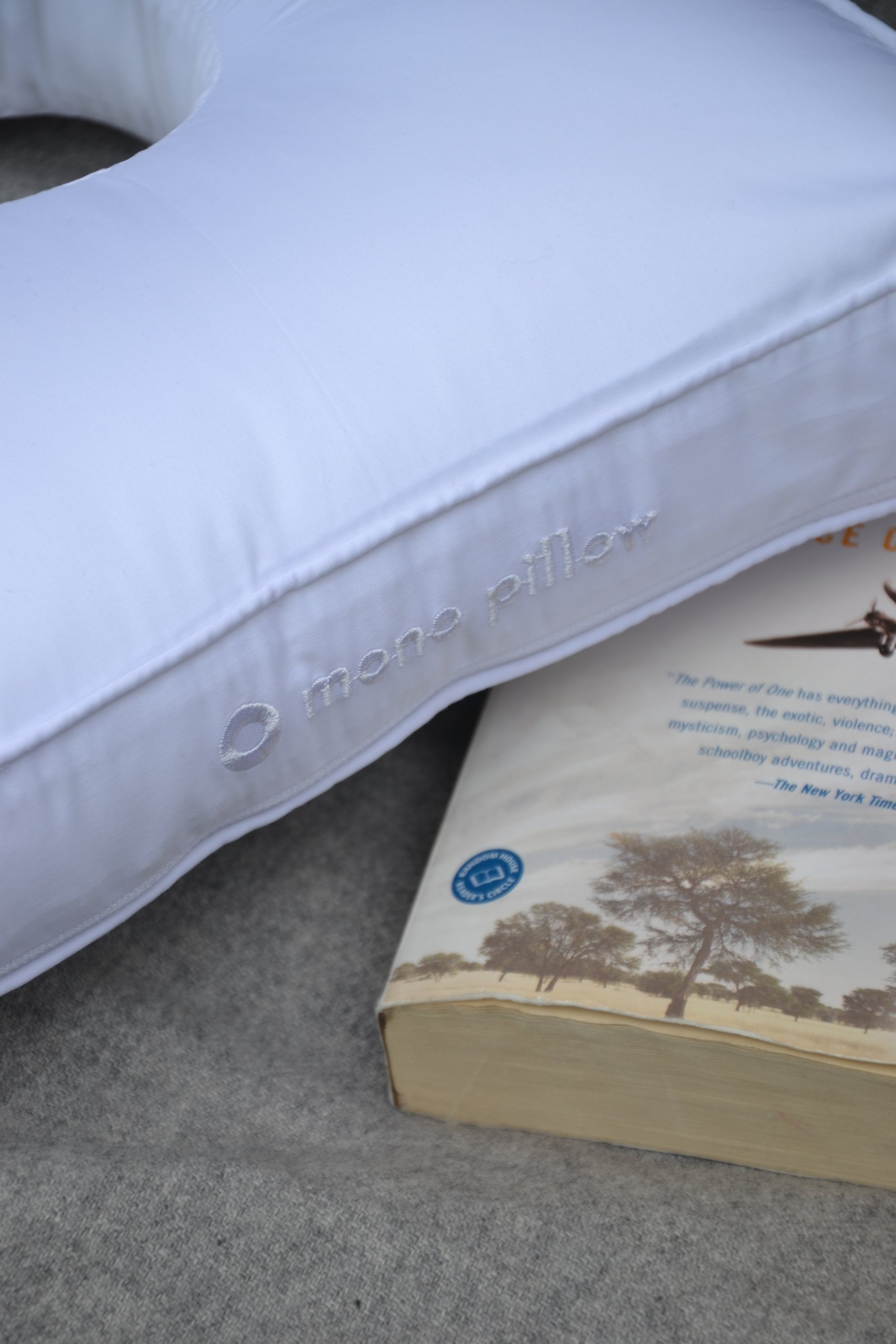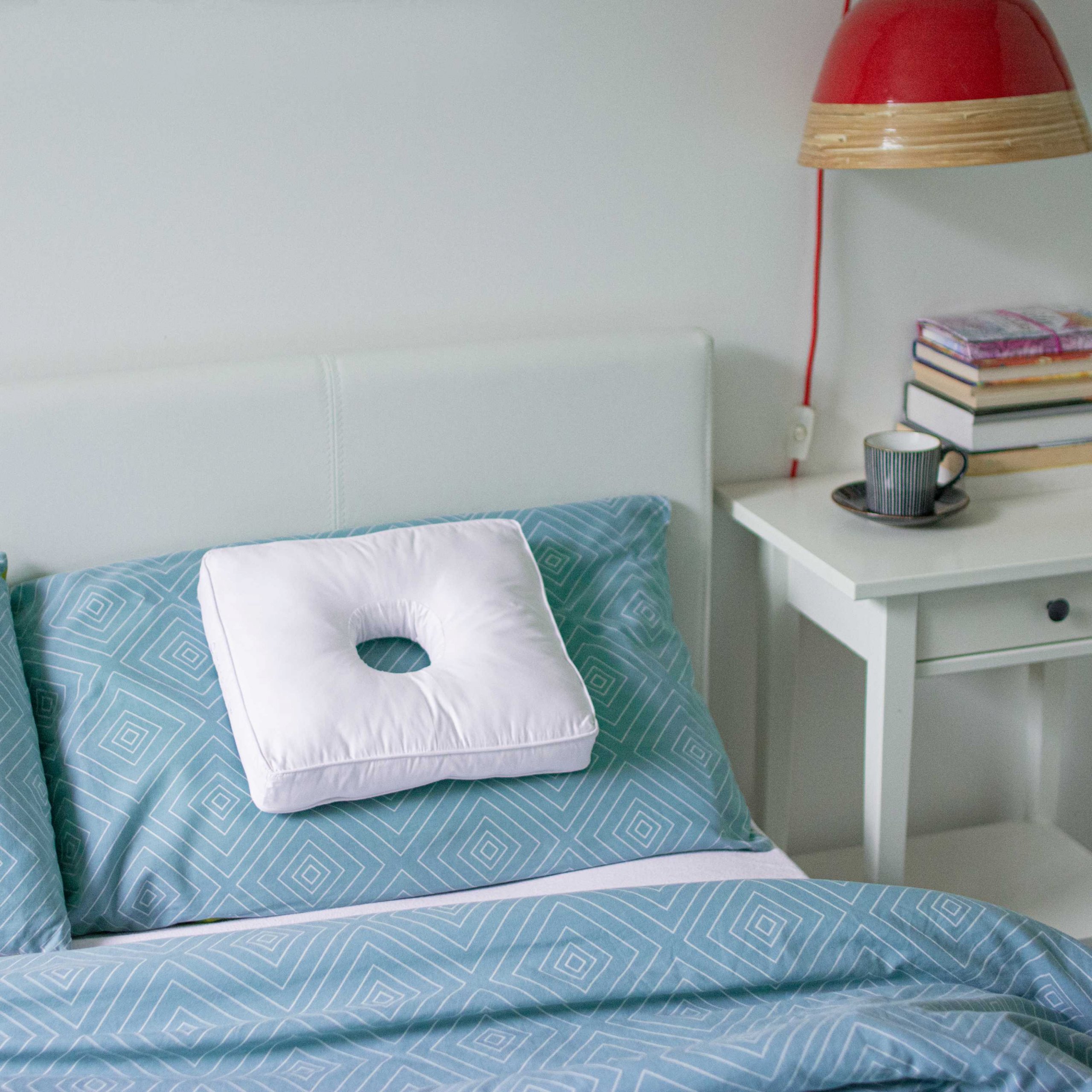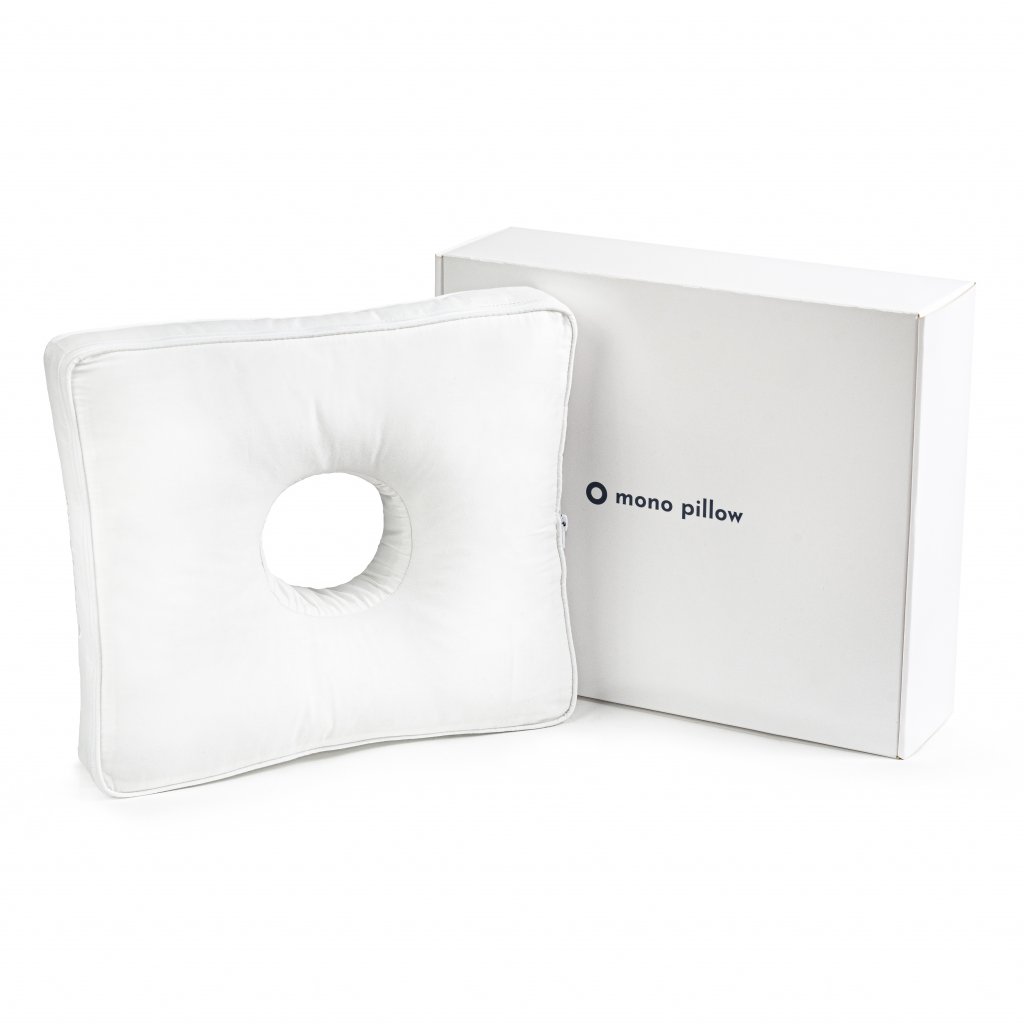 The perfect gift
Offering someone a gift that helps them function better every day and enjoy comfortable nights is a caring gesture that will have you remembered. If someone you love is struggling with their sleep, give them the gift of better sleep.